Tungsten Carbide Buttons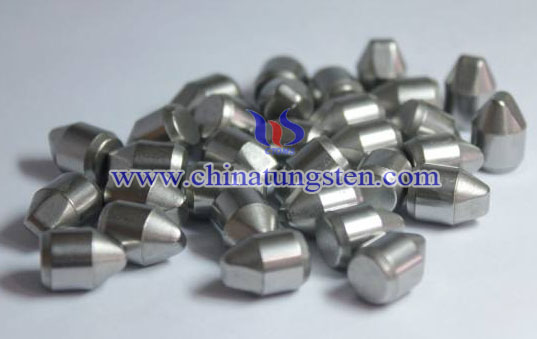 Tungsten Carbide Buttons
Chinatungsten Online, a professional Chinese manufacturer of tungsten carbide products. We produce and research medium and high-grade tungsten carbide products with rich technology strength and integrating with new test and producing equipments, guided by excellent technologists and supervisors, we specializes in producing tungsten carbide buttons, coal cutter, wear parts for oil-field and coal –field machinery, saw tips and other non-standard products. Our products are sold very well home and abroad with high reputation.
Tungsten carbide, which is also sometimes referred to as "Heavy Metal", has a compressive strength much greater than any hard metal or alloy. Because its highly resistant to abrasion, it is ideal for use in a variety of wear applications. Tungsten carbide is machineable and is usually sintered from powdered tungsten and powdered copper, it is a biologically safe, very heavy material. The scrap tungsten carbide is recyclable and it is typically produced when drilling or machining golf iron weights, gamma collimators, and aircraft elevator balance weights. It is stable nature even in high temperature that maintains the high hardness and high intensity. Especially, the WC-Co carbide performs very well in the machine.
Tungsten carbide is very suitable for high quality requirement for making tungsten carbide buttons to be used in high and medium pressure DTH drilling. Tungsten carbide buttons have always been our main products through the years; we have developed expertise in manufacturing a wide range of them. Tungsten carbide buttons are widely applied to oil drilling presented and snow removal, snow plows or equipment. Tungsten carbide buttons are used in coal drilling tools cutting tools, mining machinery and road maintenance tools for snow removal and street cleaning. Tungsten carbide button bits of mining are widely applied to stone tools, mining tools for use in quarries, mines, tunnels and civil constructions.
Chinatungsten Online follow the business tenet of assuring quality, valuing reputation, abiding by contract and optimizing service. We can produce according to your requirements. We undertake manual processing for your special products. If there is some thing that you are interested in, please don't hesitate to contact us. Welcome your inquiry.
If you have any other question or inquiry of tungsten carbide buttons, please feel free to contact us through the following methods:
Emails:sales@chinatungsten.com
Tel.: +86 592 5129696/86 592 5129595
Fax: +86 592 5129797